Took a rare trip up North today. Met up with Mike (Luke Troutstalker) and Danny (Pinkshrimp) and fished a couple of rivers for grayling. A blip in the river levels kept us anxious, I've been trying to arrange a trip with Mike for a couple of months but childcare being the reason for postponement.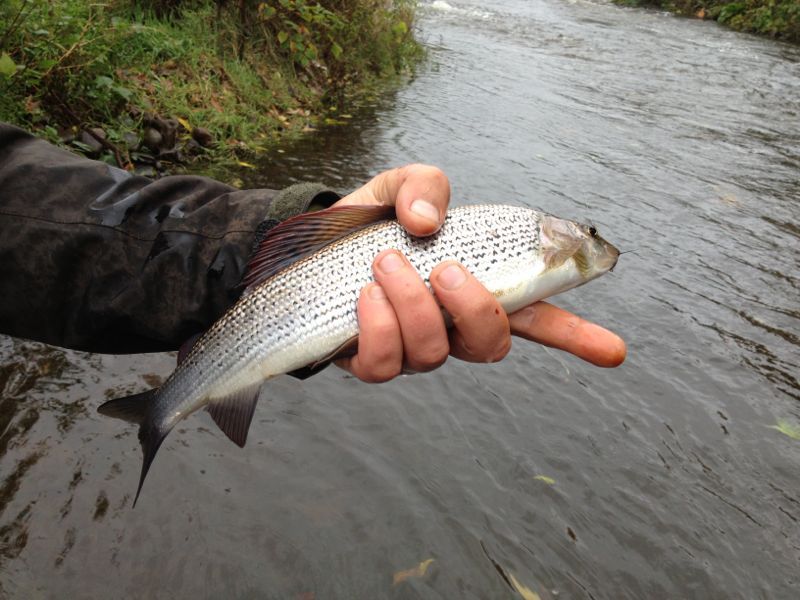 One of Danny's fish
The fishing was hard today, recent reports suggested the fishing would be good but proved to be less than anticipated. We started on a smallish river that carried a dark peaty colour, with the water level at a good height. It was stark contrast to what I'm used to fishing, although the river sizes are similar, this river has a larger volume of water flowing in it and not being able to see the bottom made for interesting wading.
I started on a nice run with the current flowing down the far side creating a crease down the middle. Mike and Danny headed downstream to fish a different part. I fished the run through but only an OOS trout caught on a JP pupa rewarded me for my efforts. Mike caught a 14" grayling from the section he fished.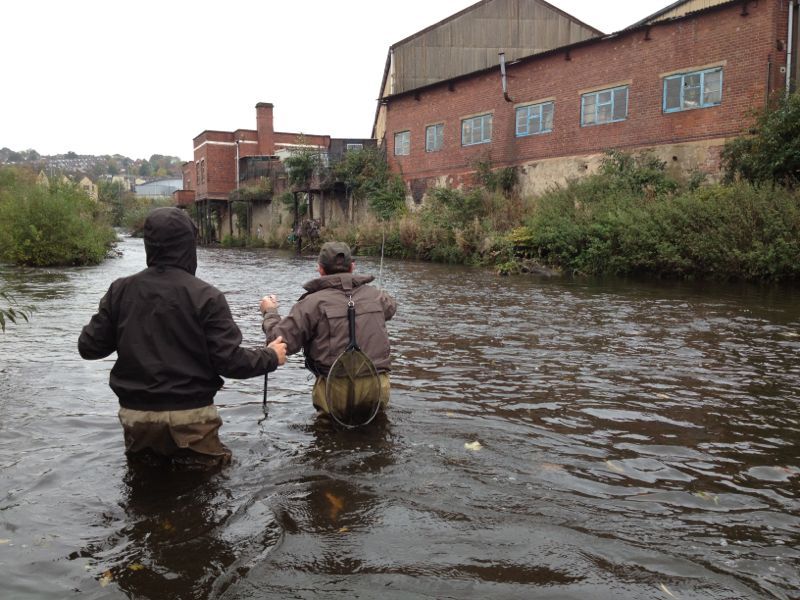 Danny and Mike fishing a run
We all made our way upstream leap-frogging and fishing various stretches. I managed a size-able grayling on a Utah killer bug and Danny added a couple of grayling to his tally. We fished for an hour or so and once we'd reached a weir we turned and headed back to the car.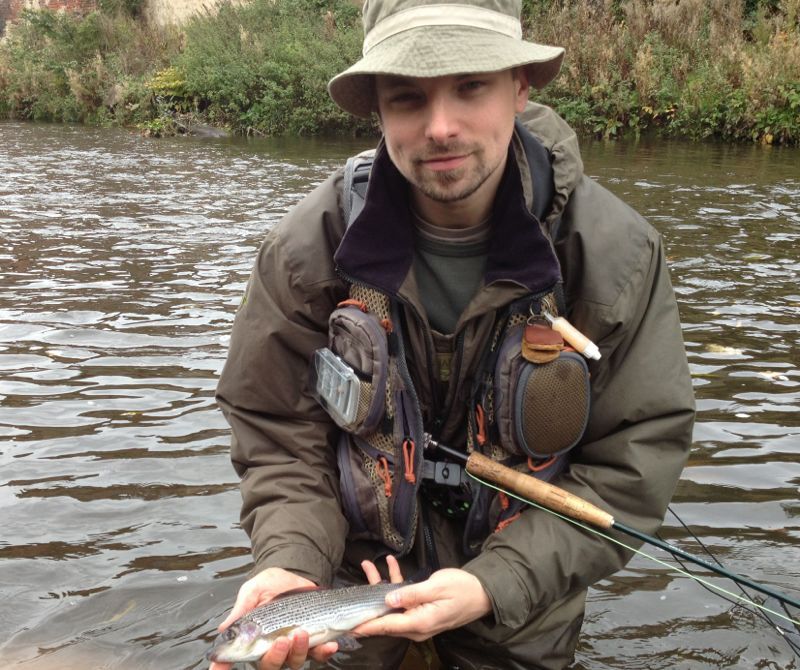 For once I had a picture of me
A quick drive took us to another river, this being larger with a greyish tinge to the water. A productive riffle was our port of call. A side stream flowing created another crease which we focused our efforts on. Only one grayling came out on this part to me; this was after Mike had fished through moving upstream. Further upstream collectively we winkled out about half a dozen grayling of various sizes. Another weir signaled the end of this stretch. Just above the weir sill I could see a grayling rising, but the rises were sporadic and the fish was moving around a lot making it hard to pin point it's location. A quick fly change saw me tie on a klinkhåmer but I failed to locate the fish.
Another move; same river different part. A pacey run failed to produce but Danny found a lone grayling in a small tongue of current. I found my biggest grayling along with a shed loads of sprats at the top of the run lying hard in a crease. By this point Mike and Danny had moved off downstream. After I had fished out the run I ventured down to find the other two. On the way down I caught another OOS trout.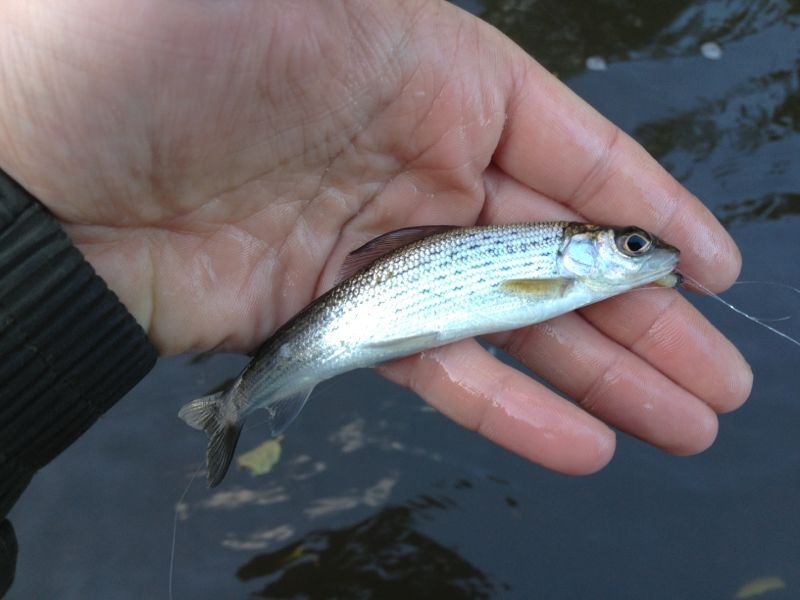 Plenty of sprats about, bodes well for the future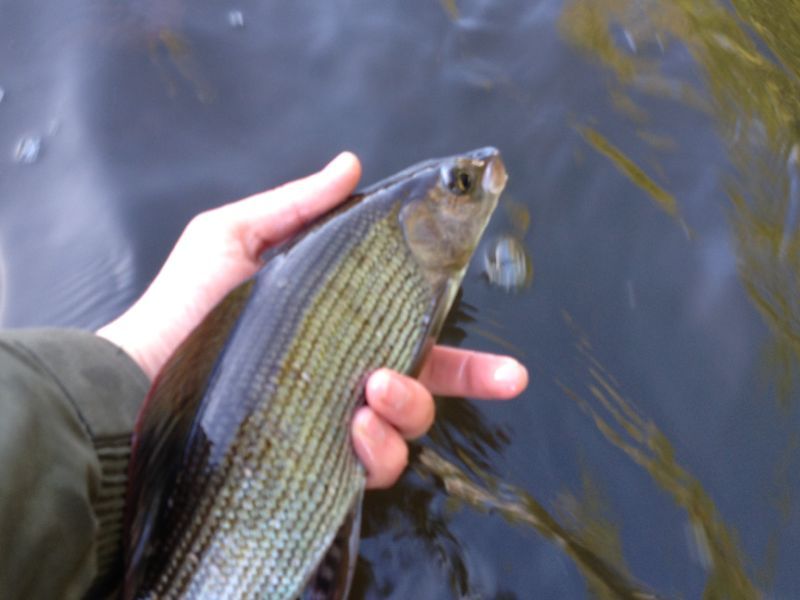 My biggest grayling of the day
Danny told me that some fish had been rising upstream of them. I had almost had enough by this point, it had been long day and I was starting to get cold but the thought of catching one on the dry fly renewed my vigor. Off came the bead heads and on went an Adams klinkhåmer. Danny told me where a fish had rose. It was lying just off from a tussock of grass. Second cast saw it suck down the fly, an almost immediate lift connected the fish. I took a further two more to the dry, one was a sighted fished that took my fly four times before I finally connected with it. The other was found with some classic watercraft. Near the bank I could see all the floating and submerged leaves being funneled showing what probably was a food lane. An accurate cast located another grayling and Danny managed two grayling on dries too.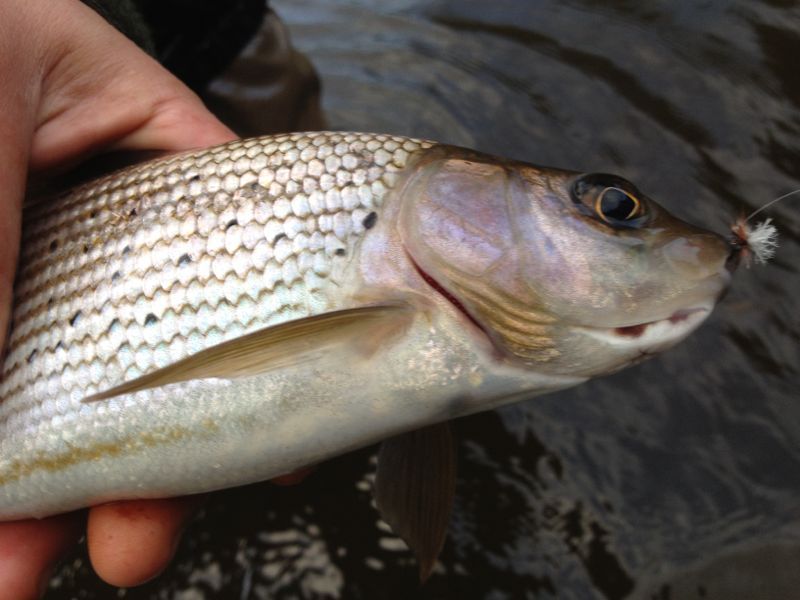 Despite squally winds and lower temperature the fish were willing to look up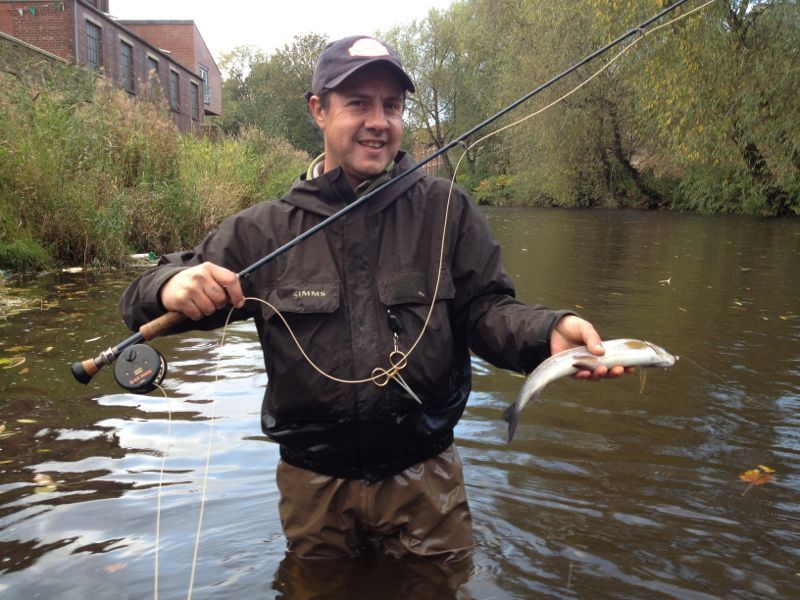 One of Danny's dry fly caught grayling