This afternoon I fished on my new club river. I decided to fish the very upper-most beat the club has. This far up, the river is virtually untouched by man. Meanders twist tightly, often bringing the river close to touching itself. Mostly it is four to six feet across, often much narrower and widening occasionally on larger pools, there are deep pools on every bend, most holding a fish or two.
Due to the steep banks casting is problematic, bow-and-arrow casting is almost a necessity. Contrary to what most people would think, I actually feel a longer rod would be more beneficial. The need to keep back from the edge being the main requisite, the longer reach - and subsequent increased length from bow-and-arrow casting - help to keep to the angler as far away from the trout. It's a theory that will have to be tested next time.
I spent a couple of hours mostly wondering and looking. I managed to catch a lovely red-spotted wild trout on a bead-head biot nymph. I also have a couple of areas noted for next time, including one that held a cracking fish.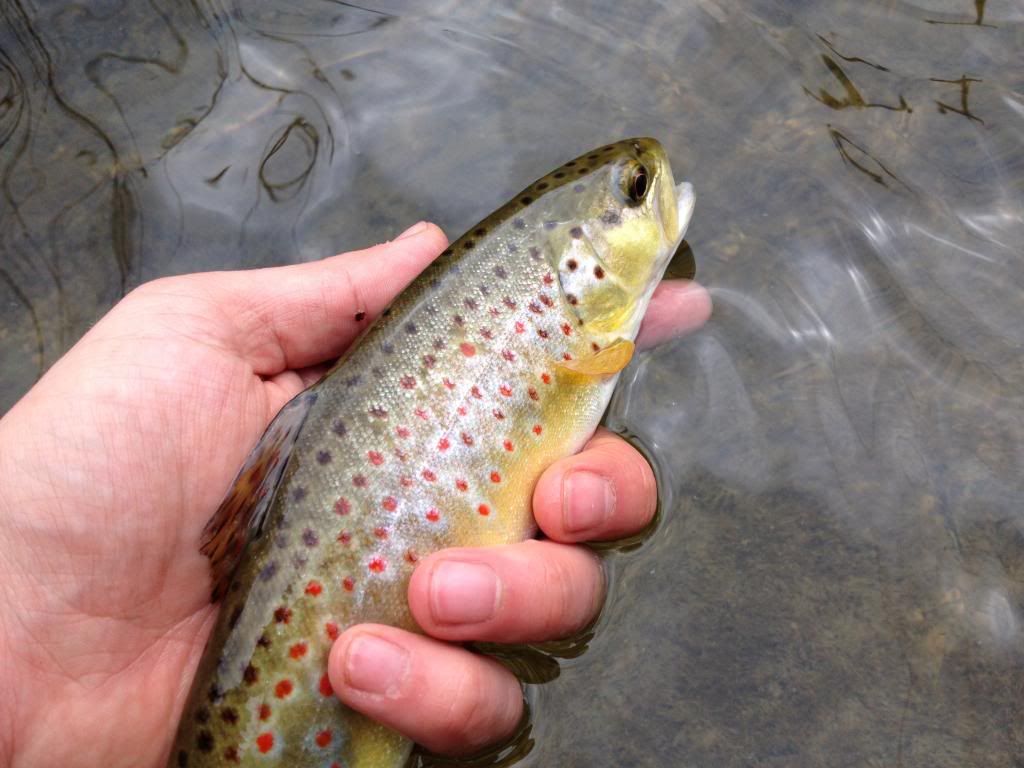 I've never seen so many red spots on a trout before
I also fished another beat after meeting up with a a club member who kindly gave me a box full of magazines and showed me along a beat. Thank you Adrian. I fared substantially better on the second beat. I caught three trout, all on dry-flies. I christened my Barbour paraloop dun which incidentally caught the biggest fish of the day.
There were a small number of upwings emerging throughout the afternoon, surprisingly though they weren't LDOs, they were smaller and paler. On the way back to the car I caught one and took a macro picture. Zooming in to see the hind-wing I can identify it as Centroptilum luteolum - Small spurwing.